Spring 2021
The forest understory is often the most diverse and under-appreciated forest layer. Should we conserve this undervalued source of biodiversity? I recently published a paper describing the long-term impacts of three commonly applied fuel treatments and patch cuts (small clearcuts) on understory species. We found fuel treatments increased introduced species in the mid-term, though patch cuts were associated with much higher levels of invasion (e.g., > 100% cover in some sites). This study helped identify win-win forest treatment outcomes that can support management goals aimed at reducing high severity fire and sustaining forest biodiversity. PDF
Fall 2020
Third chapter of my dissertation on the compounding effects of white pine blister rust, bark beetles, and wildfire was finally published! It's open access, so anyone can read it here.
Summer 2020
"New evidence from over 4,600 studies calls into question the universal application of critical threshold values, or tipping points, along gradients of environmental stress. Identifying never-to-exceed environmental targets may prove elusive for environmental policy and management."

Had a lot of fun writing a News and Views piece for Nature Ecology and Evolution with the brilliant Dr. Katharine Suding! Link
Summer 2019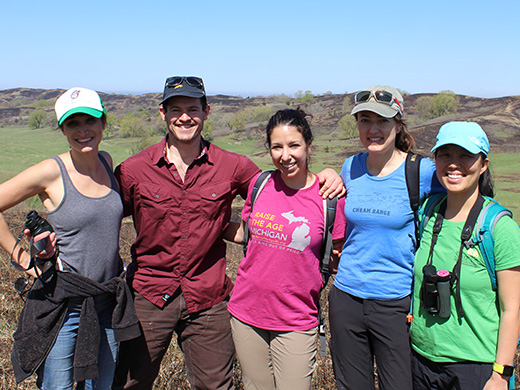 Class of 2019 Smith Fellows!
I am honored to join the amazing Smith Fellows 2019 cohort. This fall, I am heading to UC Davis and will work with Andrew Latimer, Connie Millar and Phil van Mantgem on whitebark pine research and conservation.
See more about the project here.
Spring 2019
We had an out-of-this-time super bloom in Southern California this year. I finally got a glimpse of what John Muir wrote about years ago before the invasive grasses outcompeted our native forbs.
Plant Love Stories featured my super bloom love story on their website. Also had fun making a video of some of the best wildflower shows I've ever seen!
Winter 2018
My writing piece on last summer's research was selected and featured by the UC Berkeley Graduate Division. See the full story here!
Fall 2018
Our paper was published in Trends in Ecology and Evolution. We discuss the importance of considering novel elements and ecosystems in resilience-based management.
Novelty is a double-edged sword.
Some novelty is critical for long-term ecosystem resilience, while novelty can also lead to undesirable outcomes, including a reduction of biodiversity and other ecosystem services.
Identifying how we embrace or reject novelty in natural resource management is becoming increasingly important in an era of global change.
CNR press release here.